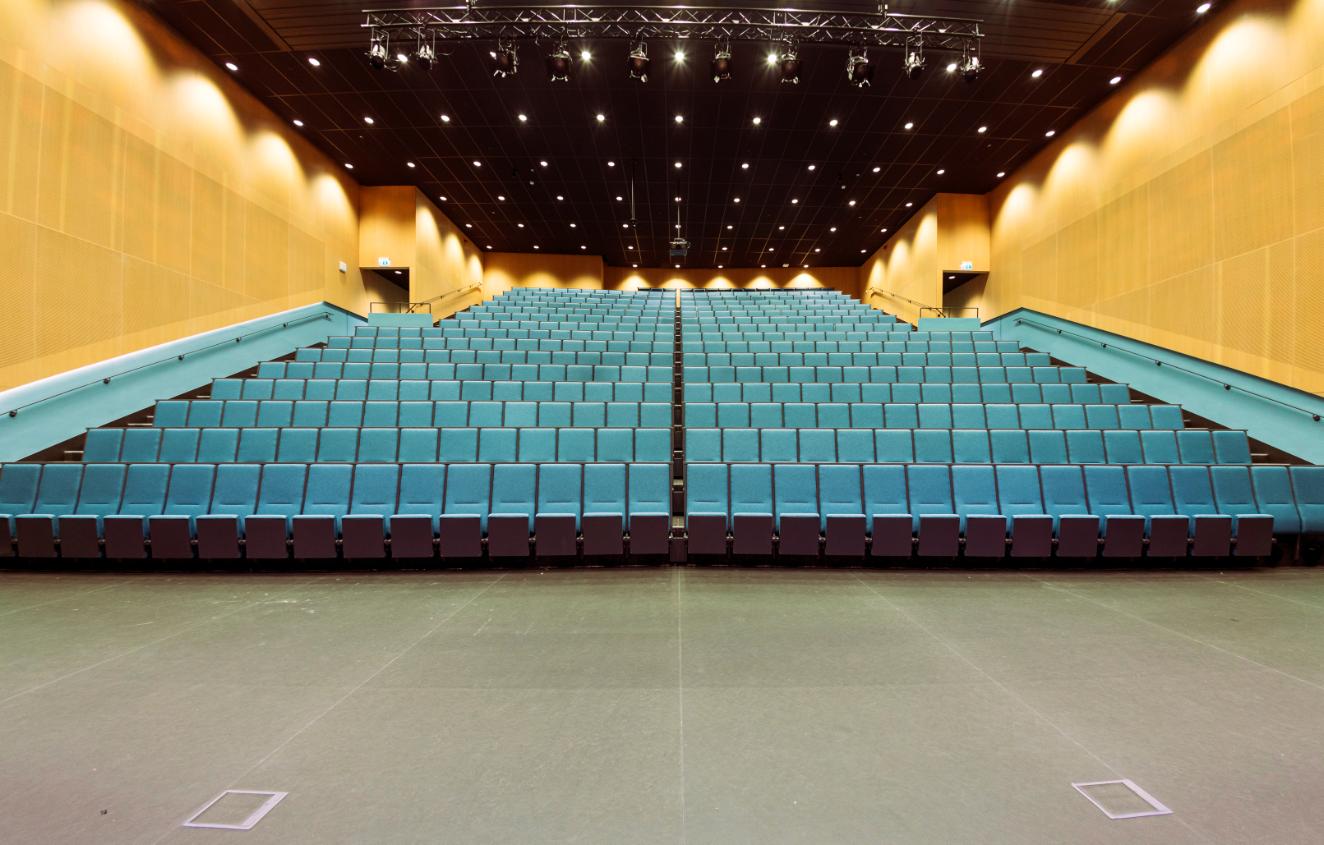 KATTEGATTGYMNASIET
FURNITURE FABRIC ADDS COLOUR TO PRESTIGIOUS PROJECT IN HALLAND
The new Kattegattgymnasiet school in Halmstad is one of the biggest construction projects in the modern history of the city, with a final cost of more than SEK 0.5 billion. When it came to furnishing the school auditorium, Nevotex's Lido furniture fabric was chosen – which fulfilled the demanding requirements set for colour, form and quality.

Kattegattgymnasiet's large auditorium was opened in August 2020. With space to accommodate almost 500 people, it's the crowning glory of this huge construction project, which is due to be completed in 2021. The auditorium will be used for external guests, live-broadcast events, training courses and school activities for the student body of almost 1,500. School principal Rikard Sjödahl points out that the premises have been constructed to meet future demands.

"The auditorium is superb and well crafted in terms of everything from construction and technology to materials and colours. The chairs are extremely comfortable. The fabric is hard-wearing, which is essential. In addition to fulfilling all the requirements relating to work environment, fire safety and durability necessary in a public space, the chairs are very comfy to sit in and the fabric is a great colour. Together with the other interior furnishings, they inject a real explosion of colour."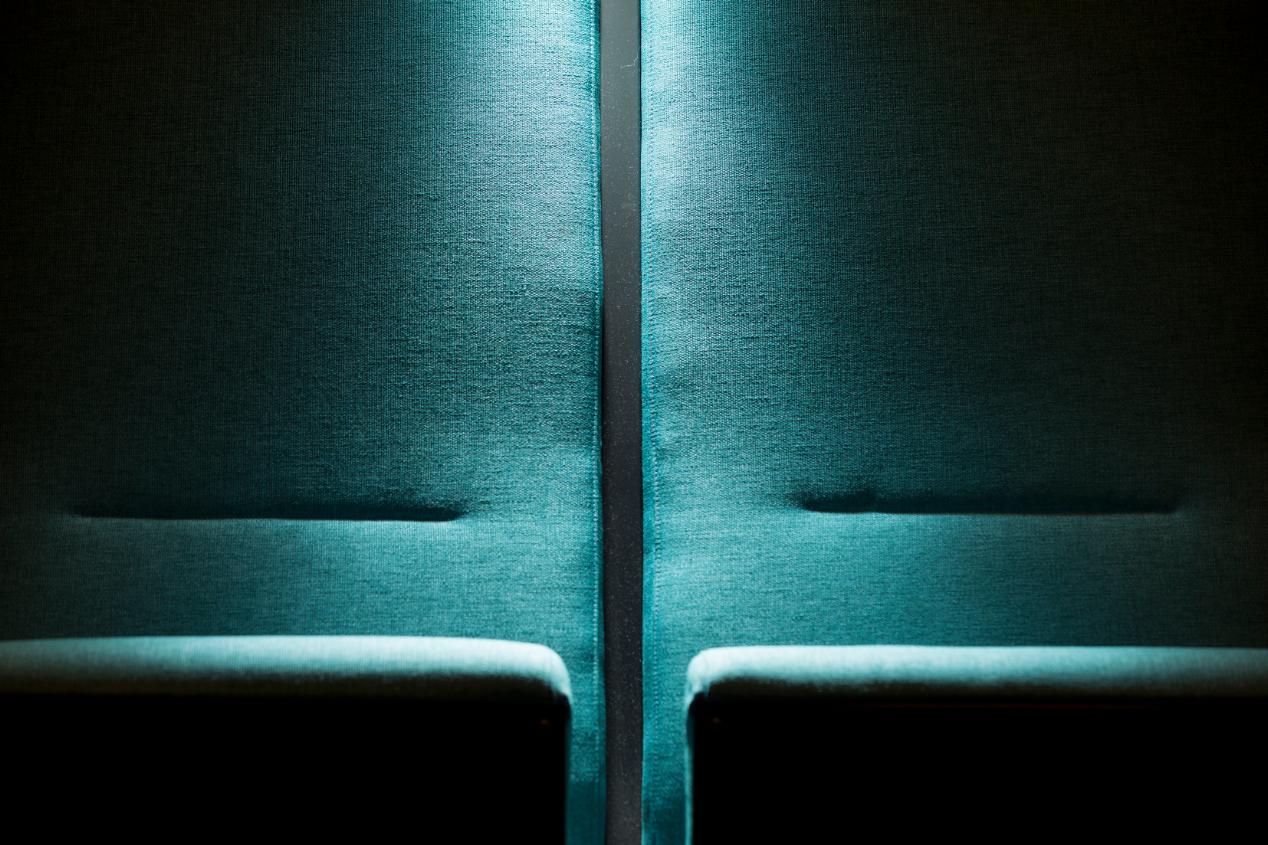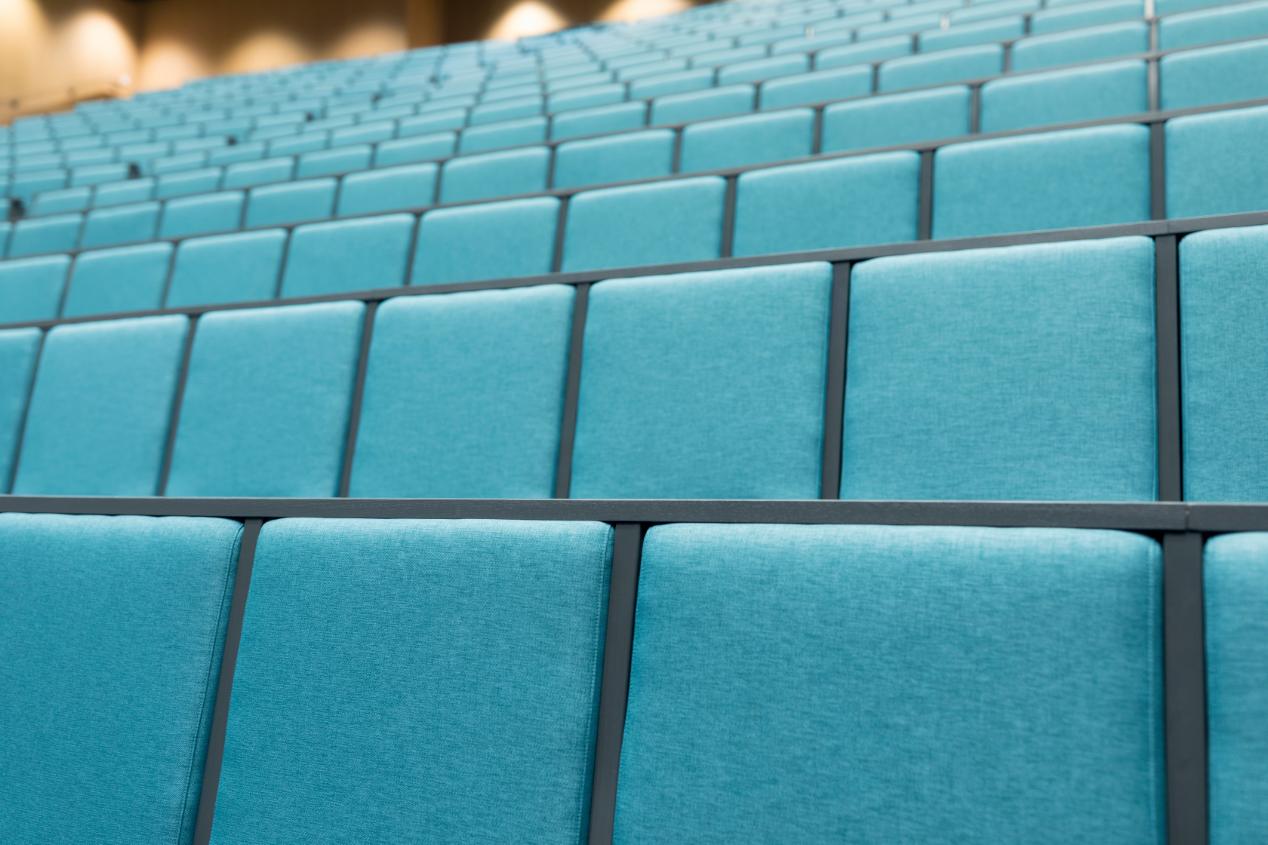 COLOUR AND FORM FOR THE FUTURE
Rikard Sjödahl likes to sit and work in the auditorium, the adjacent lecture halls and the open areas of the school. He wants to be available to his students during the school day, and the new premises facilitate that. The Kattegatt project has been a major part of his everyday life for the past three years. He mentions in particular the positive collaboration permeating contact with suppliers.

"Everything has worked fantastically well, especially considering the scale of the project. It has truly been a model project," states Rikard.

As part of the Kattegatt project, Nevotex has collaborated with furniture manufacturer Balzar Beskow, which designs and manufactures interior furnishings for public spaces. The auditorium in Halmstad is one of many joint projects for these two family companies, which have local roots but operate on a global market – and boast long-standing and solid experience in Swedish interior design.

"I tend to recommend Nevotex as often as I can when dealing with architects. They're a first-rate supplier with a large range, offering excellent quality at an attractive price," says Thomas Pettersson, General Manager at Balzar Beskow.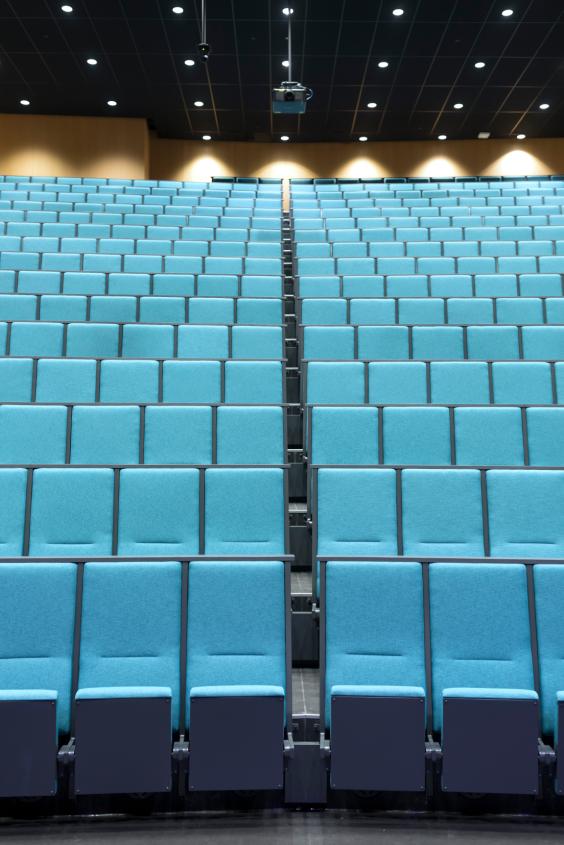 TIME CONSTRAINTS DEMAND A RELIABLE SUPPLIER
Thomas Pettersson describes every project as unique. Furniture is specially designed to suit requirements and short lead times are standard. However, working with time constraints requires everything to run like clockwork and Nevotex is a reliable supplier in that respect, so much so that they also supply upholstery material to the company.

"Nevotex holds large stocks and there has never been any problem with delivery times. We try to work with them as often as we can," says Thomas.

Balzar Beskow produces everything from individual items of furniture to complete interiors. The cost of furniture fabric differs greatly between suppliers and with large volumes that price difference can turn out to be several hundred thousand kronor. In this case the fabric chosen was Lido, which now graces the seats of a total of 580 chairs in the new auditorium and adjacent lecture halls. Once bids had been received and the options reviewed, the fabric from Nevotex was the one that best fulfilled the demanding quality and cost requirements along with the colour criteria and characteristics specified by the architect.

"The Nevotex furniture fabric collection offers a very attractive and useful colour palette, and the end result lives up to our expectations," notes Henrik Geijer from Fredblad Arkitekter in Halmstad.

CUSTOMER: Balzar Beskow
OBJECT: Kattegattgymnasiet
UPHOLSTERY MATERIAL: Furniture fabric Lido 32 Turquoise
"Lido is one of our most popular furniture fabrics and is used for individual items of furniture, as well as complete interiors. It's a hard-wearing fabric that is easy to work with and is available in 89 different shades – top quality at a great price."
FREDRIK TARENIUS
Sales Manager, Nevotex